Atric Console and software download
' ATRIC Tuning Remap Interface Console
is now available through
Davis Performance Landys.
Please do not hesitate to contact us for more information and price.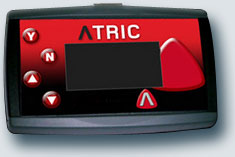 ATRIC Tuning Remap Interface Console allows re programing of your Land Rover at any time.
It has the capacity to store two states of remap tune plus backup the vehicles original software installed at the factory.
Manage your vehicles tuning to suite the conditions or environment to optimise performance and economy.
The console also acts as a Fault Code reader allowing engine management fault codes to be cleared.
Installation Instructions
For vehicle owners with an ATRIC Interface Console
After downloading the software from the link above and installing it into your ATRIC Console, connect the console to your vehicle. The vehicles original ECU mapping is then transferred to your console. From there it is just a matter of reversing the process and sending this information from your vehicle to us at
info@davisperformance.com
We will then re configure the ECU mapping to our updated version then forward it back to you for installation.
Looking for more lift in your vehicle?
see
LLAMS Electronic Height Controller
for Land Rover Discovery 3, 4 and Range Rover Sport